ERP Systems – An insight into the world of process optimization
In order to remain competitive and to ensure one's own entrepreneurial success, speed is of the essence in the modern economy. In order to meet market developments in a particularly innovative and dynamic way, it is very important to organize internal processes in order to focus attention and resources on the things that matter. In that context ERP systems have become indispensable. The choice of the right ERP system can, however, decide between great success and ultimate failure. So what factors important when it comes to choosing the right ERP system? And how does an ERP actually work?
How an ERP system works
An ERP (Enterprise Resource Planning) summarizes the planning and coordination of resources in an entrepreneurial context. The goal of an ERP system is to map all areas and business processes of a company interactively in order to use resources such as capital, personnel, resources, materials and information and communication technologies strategically and profitably. The results are high productivity such as continuity, efficiency, security of supply, quality, flexibility and low throughput times and capital commitment, which results in a general increase in competitiveness. This is realized by IT systems, which are designed according to the industry requirements and composed of many modules according to demand. The functionality of the ERP is based on the principle that the system stores the data generated in the entire business process from all areas collectively in a database. functional demarcations are thus eliminated and all areas, such as materials management, finance and accounting, human resources, sales, marketing, research and others, are linked together on a new, ordered level.

The advantages of an ERP system
Implementing an ERP system has a number of advantages. On the one hand, the integration of information and applications in their entirety reduces and facilitates the throughput speed of various work processes. Workflows are usually put to the test during the introduction of the ERP system. Best practices and adherence to compliance rules such as procedural documentation are often supported by the software.
ERP software has a modular design and networks the data from different areas in the company, enabling all employees to call up the relevant data from the other areas and letting everyone benefit from uniform and complete information. Merchandise management and warehousing, sales and service, accounting and project management, all areas are linked in a database and can be synchronized with each other. You get valuable information about how long it takes to sell your inventory, what the best-running products are, the most profitable sales channels, and more. This interdisciplinary collaboration is made possible through the use of document-management- and project-management-systems and enables teams in distributed locations to collaborate on the same resources without the valuable business information going public.
The integration of complete, reliable and up-to-date figures from all departments enables flexible and meaningful reporting. This allows standard reports as well as individual evaluations to be compiled. The result is a tailor-made reporting system that provides information at all levels of the company, from the managing director to the head of department to the clerk. The data is never recorded twice, which prevents transmission errors and inconsistencies. Invoices can be created automatically, completely and correctly because items and accounting data are transferred from other areas. Reporting/Controlling, for example, does not receive contradictory information on the same facts.
But the main advantage of an ERP system are the general cost reductions that can be observed with correct implementation. Once business processes interlock smoothly, practices such as just-in-time deliveries and services are enabled through resource optimization. The provision of personnel and excess storage capacity is avoided and electronic accounting meets all legal requirements. At the same time, the digital archiving of documents saves office material and personnel, and above all one thing: money.
Disadvantages of an ERP system
However, although ERP systems prove again and again that they have the potential to take companies to the next level, there are also aspects that can speak against an ERP implementation. Because the introduction of an ERP system is often associated with high costs and a long complicated path of integration that can take several years. A constantly changing world economy forces companies to constantly evolve in order to remain competitive. If business processes change, the ERP system must also change at the same time, which means a lot of effort in terms of customizing, training and maintenance. Obsolete systems can be demotivative for the staff through user-unfriendly systems. And individual licensing models can, under certain circumstances, lead to a high degree of dependency on the manufacturer of the ERP system. These aspects make it difficult for small companies in particular to decide on an ERP system for the time being.
Which ERP-system type is the right one for me?
ERP systems are usually differentiated between on-premise software and SaaS systems. The term on-premise describes a model in which the system is implemented on private servers and with hardware on site, which means the advantage of absolute control over your own IT infrastructure and independence from external service providers. However, on-premise software entails high costs for your own systems, independent administration and maintenance and thus the deployment of your own IT personnel.
With SaaS (Software-as-a-Service) systems, on the other hand, software and IT infrastructure are operated by an external service provider and usually used via a web browser. This saves high costs for own systems and employees, is flexible in the adaptation and use of more specific modules and has the advantage of working with experts who do not have to be hired separately. Despite the high security standards, there is always a risk of losing sensitive data when you give it away. This aspect and the fact that one becomes dependent on the support of an external service provider can speak against a SaaS solution.
Another term on the ERP market is open source software (OSS), which is free to use and has open source code so that you can adapt it to your own processes at will. However, this again requires programming knowledge or IT service providers, which means a high expenditure of time and money.
For those who cannot decide which system is best for their own interests, there is also the option of using hybrid ERP systems. This can work in such a way that, for example, some parts of the system are operated in your own company, while others are processed in the cloud. Or you decide to consolidate several ERP providers at the same time and design your ERP system according to your individual needs.
What ERP systems are there?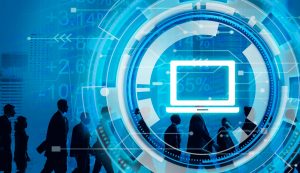 By far the most widespread ERP system in the world is that of SAP, which was founded in Germany in 1972. SAP began to develop a standard application software for real-time processing of business data. What was first conceived as a financial accounting system continued to develop and over time more and more modules were added, which is still the trademark of SAP today. Other big names in the ERP market are Oracle, Infor and the software giant Microsoft.
Anyone working in e-commerce knows how important it is to be flexible in their own business processes and adaptable to the rapidly changing world of online commerce. High contemplation on short delivery times, perfect customer service and low prices are constantly driving expectations on e-commerce merchants higher and higher. ERPs can help to keep the effort for the retailer as low as possible, especially when selling via several sales channels, in order to be able to react quickly to the whims of the market. In the best case scenario, the software automatically connects to the online shop, books the orders and the associated incoming payments and goods expenditures automatically in its own system, triggers a repeat order from the supplier and prepares the documents for dispatch. There are numerous ERP providers whose offerings can be specifically geared to online businesses, such as plentymarkets. The SaaS provider integrates a multichannel connection between various marketplaces, including Amazon and eBay, and at the same time offers the option of connecting the system to its own systems as middleware.
Selection of your own ERP system
It is not easy for many companies to decide which ERP system is the right one for their own needs or whether the time is right for an ERP implementation yet. Rightly so when you consider that there are about 300 different ERP standard solutions and about 1,500 industry-specific module solutions on the market.
Basically, such decisions must be based on one's own needs. Normally, the question should not be how best to adapt to the system, but how the system can support you in advancing your goals more efficiently. It is helpful to have your own business plan at hand and with the help of external consultants, training courses or tools such as a "requirement specification", a list of requirements with which you can systematically work out what you expect from an ERP system, to consider what you really need to make progress in your target projects.