What Is Geo-Targeting?
Geotargeting is a not so new hobbyhorse of the ever-increasing flood of data in the global network. More and more companies are taking advantage of this and using the novel benefits for creative purposes – all in the interests of the customer, of course. Due to the ever-increasing use and distribution of mobile devices, we are allowing more and more service providers to gain a deep insight into our consumer behavior and habits – with our beloved smartphone even outside our own four walls.
Geotargeting at a Glance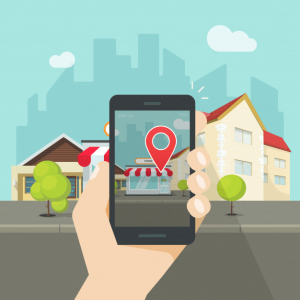 With the help of geo-targeting, it is possible to determine the whereabouts of a user, no matter where in the world he is. The only prerequisite: a terminal in your own possession and Internet reception. Via the own IP address, which can be assigned either to an internet user or an owner (e.g. internet provider), the geoposition can even be recorded up to a few weeks after the current time. Even though the IP address of the end-user can in principle be changed quickly, very few people make use of it. The location-based information provides end-users with an individualized experience on the web or on personalized apps. The providers or advertisers who want to place their service or product in an ideal way also benefit, of course: By being able to track the exact whereabouts of consumers, the relevance of the displayed content and thus the conversion increases. The collected data points are used to create the so-called "geo-intelligence", which creates a kind of tracking profile of the user in order to provide him or her with relevant content even outside the typical environment.

However, the technology is not completely error-free. Due to the use of VPN or similar software, as well as scattering losses, it is possible that the user is assigned to the wrong location. Thus, apps in particular are increasingly resorting to the GPS signal to obtain more accurate data points. Geotargeting, or much more "geomarketing", plays a particularly interesting role in e-business and online marketing.
Google & Facebook as Role Models for Amazon in the Field of Geotargeting?
Google and Facebook have been doing it for some time now, elegantly merging user behavior with the individual user interface. This starts with the search for the nearest post office and goes so far as to link the user's location with the weather conditions of the place and to sell the customer in the sunny south directly a pair of sunglasses with extra strong UV protection.
Facebook allows advertisers to categorize their ads into broad categories such as "location" or "region", but also allows them to enter addresses with exact house numbers. It is also possible to search for users who are classified as "travelers" by Facebook or to exclude cities, countries or entire continents from the target group. The more mature the technology the more limitless the possibilities. The basic conditions are given by the exact target group definition: If available a powerful tool, but without knowing who exactly to target a big-city jungle of confusing information & false hypotheses.
The fact that Amazon likes to copy marketing options from Google or Facebook is nothing new. Speculations about more precise target group targeting, as we know it from Facebook, for example, have been circulating in the Amazon community for some time now. Will geotargeting be a part of this?
Amazon Advertising & Geotargeting – a Look Into the Future
The trend towards greater mobile use continues unabated, worldwide. Conversely, fewer and fewer people are using the desktop version to shop online, preferring to browse directly via smartphone. Shopping Apps as the holy grail – dominance is rising sharply.
Amazon will probably have to focus more on app usage and on the positive response to the shopping app (note the dissatisfied 3-star customer rating) in order to follow the trend and at the same time push geo-targeting options forward.
With regard to performance-enhancing measures in connection with geo-targeting, Amazon has so far only provided initial insights into Amazon DSP (formerly AAP, Amazon Advertising Platform) and the display campaigns running on it. Unlike Amazon Advertising (formerly Amazon Marketing Services), DSP can also be used to link and advertise external websites. Ideal for location-based advertising targeting.
Of course, it also works without mobility. Together with one of our customers, we have used these functions to specifically focus on the sale of fireplace lighters for single-family homes in rural areas and in the suburbs of large cities, thus focusing on exactly those customers who are eligible for the product. With just a few clicks you can achieve a strong increase in profitability.
Conclusion – Advertising With Geodata
It remains to be seen whether and how Amazon will create the option for sellers and vendors with a somewhat smaller budget to introduce more precise ad targeting with the valuable geodata. It should not be forgotten that additional data is not always an advantage – advertisers in e-commerce need to know their clientele well and especially for small or young companies this is not always easy. While some voices argue against it because of the complexity of campaign creation, others consider it an absolute must and cite Facebook as an example. However, the example of Amazon DSP also shows that, in addition to Facebook and Google, geodata can and sometimes even must be used specifically in online commerce. As a specialized Amazon full-service agency, we also take care of the setup of such campaigns. In this way, advertising for products or brands can also be implemented in specific regions away from the "actual" marketplace.